Landscape construction projects can be separated into two categories: enhancements to existing landscapes and new construction.
With regards to enhancements, we have completed projects with very small budgets in the thousands up to over one million dollars. Enhancing landscapes requires sensitivity due to the fact that properties are already in use and have customer/tenants/residents on site each day. We understand the challenges that property management have on a daily basis and we work towards integrating the project with their needs.
New landscape construction has its own unique set of challenges. Our trade is typically one of the last on site during the life of a project. This can generate immense pressure if the project is behind schedule when we start. We are the only contractor that deals with living things that are expected to grow in size and flourish after installation. Our projects have varied in budget from thousands to 1.5 million.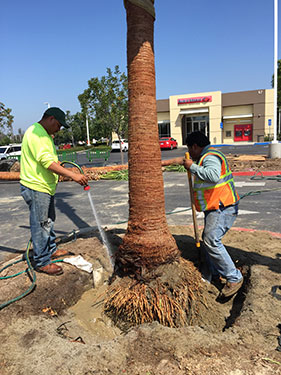 In terms of landscape construction, our capabilities vary.  We have the ability to install trees up to 120" in box size (in this case a multi-trunk palm over 40' high) down to installing a grass ground cover in plug form. The largest irrigation system we installed included over 200 valves and eight controllers, while the smallest was just a single valve.  We have worked on new and enhancement projects at office buildings, apartment complexes, retail centers, home owner associations and schools.