Almost no aspect of what we enjoy about our landscapes would be possible without irrigation. It is the unseen requirement needed to keep this all going in most years.
Because there are many moving parts to an irrigation system, issues arise daily that need to be addressed in order to keep the system functioning its best. Without regular, budgeted maintenance, systems quickly fall apart and cost much larger sums to resurrect.
Problem solving irrigation systems is one of the most difficult aspects of working with landscapes. We consider ourselves experts on solving the most challenging issues that arise with irrigation systems. Whether you are having issues with electricity, hydraulics, pumps, or coverage we can most certainly help.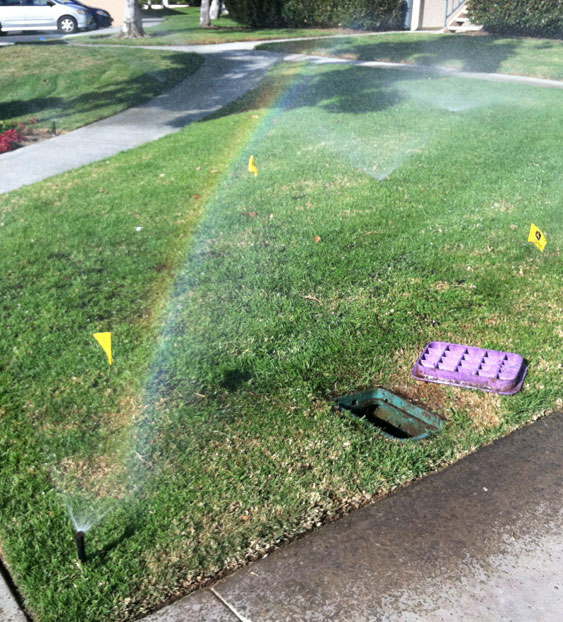 Saving water in the landscape is a more popular topic in drought than in wet years.  We feel the best way to save water is to maintain your irrigation system with regular repairs and manage the irrigation schedule.  An ounce of prevention is truly worth gallon of cure.
Another popular method of saving landscape water has been changing turf areas to lower water-use ground covers.  This should be undertaken with a plan in mind so as not to permanently reduce the value of your property.
Modifying irrigation systems can be another way to save water in your landscape. We don't believe that simply installing drip irrigation saves water.  It relies heavily on whoever is managing the irrigation schedule.
Recycled or Reclaimed Water is waste water that is treated by your local municipality to a purity acceptable to plants, then piped back through your irrigation system. These irrigation systems are designated with purple-colored valve boxes and sprinkler heads.
Potable water is the same as drinking water we use in our homes. This is usually the only water available to irrigate landscapes unless the city where your property is located has a recycled water system.
We have certified Recycled Water Site Supervisors on staff and work with six recycled water providers in the state. Recycled water is generally less expensive than potable water, and it is possible that your site has recycled water nearby and can be converted over to use it. We can help you determine this and also assist with converting your site over to recycled water. We are familiar with cross-connection testing required by water agencies and also yearly coverage testing.with
Landscape drainage is typically only thought about when it rains.  However, there are many reasons, both for the health of your landscapes and the structural soundness of your buildings, that drainage is important every day.  Changes in elevation, differing soil types, and irrigation cycles are all reasons that surface and sub-surface water play a role in keeping your landscapes looking their best.
It is helpful to think about the path water travels on top of the soil and underneath.  This type of analysis helps develop a plan that can be implemented to address excess water that may be present in your landscaping.  We have experience implementing solutions such as storm drain systems, sub-surface interception drains, sumps, swales, and open catchments.